Bulgarian Black Sea Coast
Over the last couple of years we have travelled fairly extensively along the Bulgarian Black Sea coast, particularly the southern areas, as we go regularly to our apartment near Sunny Beach and to our apartment in Sozopol. We have also travelled right the way up the the most northerly point of the Black Sea coast in Bulgaria and visited the various resorts on the way. This is just a quick look at some of those places along the coastline. But it is a fantastic place to explore.
The Southern Bulgarian Black Sea Coast – Sunny Beach and around and south
Pretty much everyone has heard of Sunny Beach. The resort very much trys to cater for the Brit abroad with happy hours at all bars, Sunday roasts, Big TV screens showing football and night clubs and peep shows. Sunny Beach does have a fabulous stretch of beach but it is completely covered with sun loungers and umbrellas that you have to pay for and so it ends up fairly expensive (around 10 levs a lounger plus 4 levs for umbrella I think).  At the main beach though there are bungy lifts, fairground rides and you are constantly being accosted by vendors of tat or someone trying to drag you into yet another tacky looking restaurant. For those looking for a lively, party atmosphere, then a week's holiday to Sunny Beach may suit you. Of course, there is also the fact that it is completely over-developed with thousands of apartment blocks and hotels and generally much more expensive than outside the tourist resort (except for beer as obviously hundreds of restaurants competeing for your lev for your large beer!). Development just never seems to stop and still they build massive new hotels and apartment blocks, while hundreds of others sit empty.
Sveti Vlas
On my first visit to Sveti Vlas it was out of season, back in October 2005 and we could not find a single hotel or restaurant open. Things have changed a bit since then. The 'no-man's land' between Sunny Beach and Sveti Vlas, where there has been various apartments built, is where there are many issues with planning and infrastructure, lack of any proper roads but fabulous views! However, Sveti Vlas itself is still lovely if rather touristy along the main pedestrian drag. But get away from that and it has real charm, narrow streets and lovely views. There has been an unbelievable amount of development here as well and it continues. It tends to be much more expensive property wise than Sunny Beach as was always seen as the more exclusive place to own an apartment.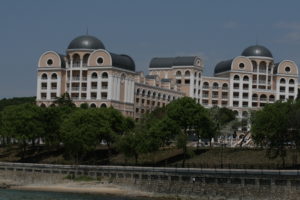 There used to be a lovely walk along the old sea wall from Sunny Beach to Sveti Vlas but now the monstrosity of the new Riu Hotel has been built on the site of old municipality buildings and they have fenced off the sea wall as part of their complex. Personally would be my worst nightmare to stay in something like this, when there are lovely little family run hotels in the older part of Sveti Vlas, but then each to their own.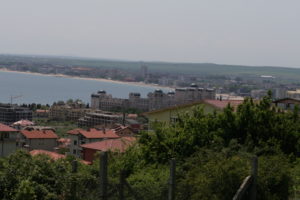 Elenite
Once you leave Sveti Vlas the road follows the coast line and passes a few large developments on the edge of the sea, then at the headland you across the monstrosaty that is the Royal Castle Hotel with its Romanesque pillars and water park. The road continues into a mass of developments, all massive, all on top of each other. It is not a place we have spent any time as quite frankly it is horrendous.
Kosharitsa & Tankovo
Just inland from Sunny Beach are two villages where there has been substantial development. At the far north end of Sunny Beach the road travels 6km inland to the village of Kosharitsa. Billed as a traditional Bulgarian village and where tourists are taken to on their 4×4 tours and to see "real" Bulgaria, it is a long way from being anywhere close to what a normal Bulgarian village is truly like. There is barely a pot hole to be seen and the roads are regularly swept and most of the houses are renovated and look well cared for. The hillside in between Sunny Beach and the village has been substantially built on and there are various developments, some finished, some nothing more than concrete foundations, others half finished. There are some lovely houses in the main cluster of development, before the apartment blocks started to spread out and up and down……..Just past the village of Kosharitsa is the complex of Sunset Kosharitsa, a gated community with apartments and several villas and 6 pools. It is a residential complex as well as a holiday place.
Tankovo is another village but a little further south than Kosharitsa. It is where the large Sunny Day 6 development has been built and a few other smaller developments.
Nessebar
Old Nessebar sits on a rocky outcrop attached to the main land by a short strip of road, while the new development of 'New Nessebar' sprawls along the coast from the old part and merges with Sunny Beach and Ravda. The old part is definitely worth a visit and is full of old Byzantine ruins, cobbled streets and lovely old houses. But it is incredibly touristy.
Like many of the places along the coast, Nessebar is best visited out of season and is then a lovely pleasant old town to wander around and explore the narrow streets.
Ravda
Ravda has under-gone massive development and now spawls into Nessebar and there is no definition between the two. It has a fairly pleasant if very touristy centre, lined with trinket stalls and a lovely walk along the sea front. There are many unfinished apartment blocks and away from the main street the roads are little more than dirt tracks but the main town is very pleasant outside of high season. There are some nice beaches and it does attract more Bulgarian tourists than say Sunny Beach, but what was originally a lovely fishing village has been rather spoilt by development. That said it is worth a trip and a day to explore the place and it has some nice beaches.
Alehoy
I like Alehoy, it has of course had its problems (mainly with the huge Platinum Developments 'Aheloy Residence') but the original town still retains charm and has some lovely little restaurants. It can get very busy and back-logged with cars due to the traffic lights on the main road through it.
Pomorie
I am sorry if this offends but I just do not like Pomorie. It is dominated by the massive Sunset Resort on the edge of town and the main resort is just a jumble of apartment blocks and shops, with no atmosphere. It always seems chaos and crammed with traffic. There are the mud flats not far from here, where many go to bathe in the mud with is supposed to have healing properties.
Burgas
I can't say we have had the opportunity to explore Burgas much. We have made quick forays into the centre to sort our various paperwork over the years and have visited the sand sculpture event held each year on the beach and wandered around the sea gardens. But there is much more to see and we hope to get the chance to explore more in the future. There are some lovely stretches of beaches and some nice villages just inland. The salt flats are a haven for bird life and there is a nature reserve just next to the city.
Chernomorets
This is a lovely little resort, although has of course been touched by development, mainly on the outskirts. It is a popular summer destination for Bulgarians and is still fairly traditional, with a lovely main central street lined with little shops and restaurants. At the end of this is the beach, which has been made bigger in recent years. Chernomorets is definitely worth a visit, but parking can be rather difficult.
Sozopol
The old part of Sozopol is made up of timber framed houses and museums but then new part then sprawls up the hill and a further 2 kilometres or more down the coast.
'New' Sozopol extends from the hill above the old part and mainly south along the coast for a couple of kilometres. There are some interesting places to explore and some lovely coastline.
The old town is one of my favourite places along the coast. Whilst touristy to some extent, it still retains it charm and is a lovely place to walk around in the evenings and get a meal. We had absolutely no problem finding a place to stay in the old town, despite it being the height of the tourist season. There were plenty of hotel rooms available for 50 levs and we stayed in a great private room with large terrace for 30 levs. We ate at the restaurant at the far end of the southern sea wall, overlooking the beach. The food was great (if twice the price of a meal further inland). New Sozopol now extends as far as the eye can see and beyond but the old part has not been spoiled. Definitely recommend a visit to old Sozopol. The newer part is a bustling place and we now visit regularly as we own an apartment in new Sozopol, right on the coast. The newer area is divided into two areas really – there is the residential part that goes back up the hill, behind the new stadium and is where "daily" life happens with schools, small shops, cafes etc. Then there is the area that has been developed to the south of this, along the coast line. Apart from the developments built along the main road that follows the coast (Via Pontica), the rest of the new complexes and apartments are set up on the hill, amongst a confusing maze of dirt tracks. But its very easy to walk around.
There are some fabulous beaches. The ones close to the old town and the main strip tend to get very crowded but travel a bit further down the coast, and there are some fabulous long stretches of golden sand with hardly a person on them.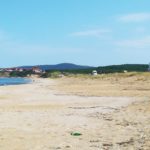 Primorsko
Another small holiday town, but less discovered by non-Bulgarians, it has a nice feel to it. There are a couple of small beaches and the usual small shops and bars. It is still a place people live and work, so if a proper small town, not just a resort. Nice place to visit and spend some time.
Lozenets
A strange little place, it has some new developments on the outskirts but the town itself seems to be struggling. It always seemed rather dead when we have visited.
Tsarevo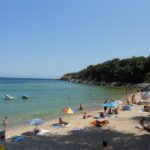 This is just another one of those places we don't like. We have been a couple of times and had lunch here and just didn't have a very welcoming feel about it. We were maybe a little early for the main season but it was still very very quiet and lacked any real ambiance. There is a small beach on the edge of the town.
Further south you go through the tiny resort of Varvara and then come to Ahtopol. There are many campsites down this stretch of the coast and it is far less visited than around the main resorts. The seaside village of Sinomorets is a nice sleepy place to explore with a long stretch of sandy beach. The coastal road then via away from the sea slightly through wooded areas and enters the border region with Turkey and eventually ends at Rezovo, where you can see Turkey.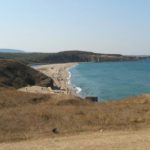 The Northern Bulgarian Black Sea Coast – North of Sunny Beach Towards Varna
The road winds up and out of Sunny Beach and over the end of the Balkans. There are a couple of pretty villages en-route and of course the odd random development in a field in places. It has been several years since we have now ventured north and so much may have changed in the last few years.
Irakli Nature Reserve
Back in July 2008, on a trip to the coast we were initially going to camp at Irakli nature reserve but having got there to find it covered in rubbish and having had the car broken into and bag stolen within 30 minutes of arriving, we decided to go elsewhere. However, I think we just had a bad experience as we have been back a couple of times since and the beach at Vaya is fantastic with a really nice restaurant that is part of the camp site. Irakli beach is part of the same stretch of sand.
Obzor
This resort, half way between Sunny Beach and Varna, has escaped most of the horrendous develoment that has overtaken much of the coast. There are a few large developments on the edge of the town but the centre is nice with a park and a nice beach. It is not full of British tourists and still feels like a town where people live all year round. We opted to stay here for a night on a trip (July 2010) and again had no trouble finding a lovely little apartment to rent that was 2 minutes from the beach and only 30 levs for the night. The beaches are fantastic and it is definitely one of our favourite places along this stretch of coast line.
Shkorpilovtsi Beach
A great stretch of beach and not often that busy from our experience, but did have quite a lot of sea-weed when we visited. There is one larger restaurant on the beach (music bar) but we found this expensive and the food pretty average. The smaller snack bar type places were better. Its about a 5 minute drive from the main road, through Shkorpilovtsi village, where there are various vendors selling fruit and veg on the side of the road. The area has escaped the mass development that has gone on elsewhere.
Varna & Around
I used to have friends that lived in Varna and visited often over the years. It is a lively city with a long pedestrian stretch reaching down to the sea gardens and beach and promenade.
I also visited Golden Sands in October 2005. Out of season, it appeared more pleasant than Sunny Beach and there was also more open at that time of year. However, my parents stayed there in June 2007 and having had to negotiate the crowded one way streets lined with 'tack' shops and coaches, and seen that it is now much more developed, I am not so sure if there is much between Sunnny Beach and Golden Sands. My parents found that most of the beach was cordoned off as private and so you could only freely walk down narrow passageways to the sea edge. Every spare inch of sand was covered in sun loungers and they struggled to find anywhere to eat that was not a Steak house, burger bar or pizza place. I have also visited Albena briefly, which had a great stretch of beach but lacks any atmosphere.
On our July 2010 trip we were staying in St Konstantin & Helena, just on the northern tip of Varna. Here there are a couple of lovely smaller beaches that were not crowded and were free to access. The actual resort of St Konstantin & Helena, while catering mainly for package holidays from Russia, Romania and Skandinavia, is a pleasant place to walk around and grab a bite to eat.
Balchik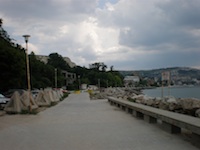 On the trip in October 2005 we drove as far north as Kavarna and stayed the night in Balchik on the edge of the harbour in a lovely hotel. Balchik at the time had real charm and in the morning you could still see all the fisherman preparing to go out for their day's catch. However, when back there in July 2010 it had a neglected, run-down feel to it and was no longer the charming fishing port I remember. It was absolutely dead, despite it being the main tourist season and all along the promenade by the sea were abandoned concrete structures or apartment buildings with numerous for sale signs. If visiting to see the Palace and Botantical gardens you can get in for free by walking through the restaurant at the end of the promenade, near the palace – just make sure the guy at the rear entrance is on his cigarette or toilet break when you walk through!
Kaliakra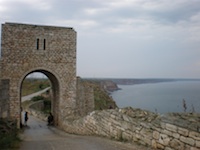 Back in 2010, we headed up to Cape Kaliakra, as it is somewhere I have always wanted to visit, where there are supposed to be lots of ruins. However, having now been I would say do not bother! You are charged 3 levs per person to access the cape, you are surrounded by wind turbines and phone masts and all in all you get the impression you have been duped to come in and see a few ruins (nothing more than the outer defense wall and entrance gate and a few stones left of a couple of churches and dwelling houses with nothing by way of explanation) so that you will have to pass the several tacky stands and make your way to the one restaurant. The small museum in the cave by the restaurant has a good model of how the cape may have looked but all in all very disappointing and what the guide books do not tell you, is that the cape is dominated by a no-go-zone military area!
The road from Balchik to Kavarna is strewn with random developments off towards the coast and several golf courses and has a very strange feel to it, as though someone just thought – 'hey, lets build a massive estate around a supposed golf course in this random field', which basically is what happened.
Bolata Bay
We visited Bolata Bay as it was described as being one of the most beautiful beaches in the world! It is a small natural cover and I guess out of season it is probably lovely, but in the summer there are car's parked all over the beach, its crowded and does not hold much appeal. There is a little break-water keeping the water calm and a few small fishing boats. It is just a short drive from Kaliakra.
Shabla
Shabla is a typical Bulgarian town, just inland from the coast. It has a long stretch of beach about 3km from the town. It would be absolutely lovely as the water is crystal blue but the beach had so much rubbish washed up on it and there were plastic bags and all sorts floating in the water. This was a real shame as its off the tourist trail, but popular with Bulgarians and would be a lovely little holiday resort.
The stretch of coast line from Shabla to Kamen Brag is rocky cliffs with some lovely views, but not a place to go for beaches or easy access to the sea.
Krapets
We only stopped here for lunch. It is a small village right on the edge of the sea. There is supposedly a long stretch of beach here but we could not really find access to this and seemed quite a steep drop down to the sea from where we had lunch.
Just Inland from Varna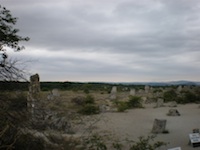 On a trip in July 2010 we decided to head back home via Veliko Turnovo so took the A2 northern route out of Varna. If you take this, around 20km outside of Varna you see a sign for the 'stone forest', take this exit and then turn left and then right at 't-junction' and just up that road on either side you will see large stone columns, formed when the earth's clay plates pushed together many millions of years ago. You can just park on the edge of the road and walk around the stones on the right for free, but to get into the main part on the left you have to pay 3 levs per adult. We didn't bother as can see enough from the road. But its an interesting stop off point if passing.
Aladzha Monastery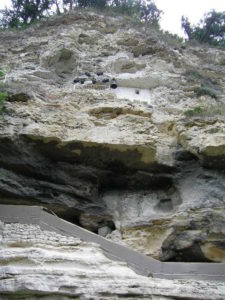 These monastic dwellings, built into the rock face are just 14km north of Varna. There are monastery cells, a church, a refectory, a kitchen and a small cemetery church and a crypt and farming area on one level and then higher up in the rock recesses are further chapels.
Definitely worth a visit.