Jan 15 2017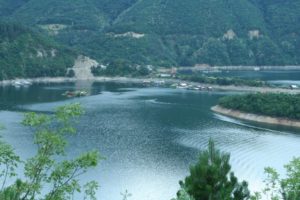 Our next trip was also down towards southern Bulgaria to test out the spa waters of Devin, a town famed for its bottled mineral water and spa hotels.
The drive took us around 4 hours and followed the winding road along the side of Vacha dam, where there are a number of house boats built on the lake. The reservoir is part of a large hydro-electric operation involving 3 other lakes, 6 dams and 4 power stations. Construction began in 1964 and took over 10 years to finish. It was completed in 1975 and is the tallest dam in Bulgaria with the water stretching back over 20 kilometres. The scenery along the drive is stunning as the road climbs up and then down towards Devin.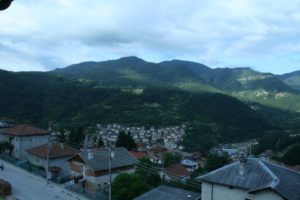 Devin itself is not a particularly attractive town, although the setting is lovely. It has a rather run down, deserted feel to it, with few restaurants aside from the hotels and just a handful of street cafes. We had booked into a guest house which turned out to be at the top of the town and a fairly steep drive up to it. Whilst the views were amazing, looking right down the valley over the town, it meant no-where was an easy walk.
Having reached the hotel at around lunch-time and got ourselves settled in, we decided to head to the municipality mineral pool, on the outskirts of town. Having talked to the hotel proprietor we were reliably informed that the hotels in town don't actually have the mineral water in their pools, although they claim to. The main municipality pools are a few minutes drive west of the town, past the large Devin water bottling plant (which is chaos with lorries parked everywhere). There is a car park just by the pools, although it is not particularly big and imagine it gets very crowded in peak season.
Even though we left temperatures above 30 degrees in Kazanlak it was barely above 20 degrees in Devin and so was not exactly sun-bathing and outside pool weather. But we braved it and at 20 levs each to enter the pool complex, we tried to make the most of it. We first decided to get some late lunch in the on-site restaurant. It was expensive and not particularly great. The complex has one large pool that is pretty cold, a jacuzzi and a smaller, shallow pool of warm water, fed directly from the mineral spring. There are clean changing rooms and outside showers.
There are apparently free natural pools further up the track that you can walk to.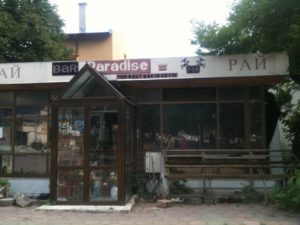 We spent two or three hours there and then decided it was time to head into town and get something else to eat before we went back to the hotel. We parked in the car park in the centre of town, which appeared to be free and walked down the main pedestrian street, looking for a traditional Bulgarian restaurant. However, we were disappointed to find only cafe type street cafes and ended up at the Orpheus Spa Hotel. I had been there many years ago and remembered the Turkish restaurant on site being very good. But this time around, it lacked any atmosphere, the food was average and fairly expensive and so we made a quick retreat before the "live" Bulgarian music and singing started.
Overall we were disappointed with Devin. There are mineral spa's all over Bulgaria and Devin does not stand out from the rest, despite its reputation.