About Me
All About Me & My Experiences in Bulgaria – The Long Version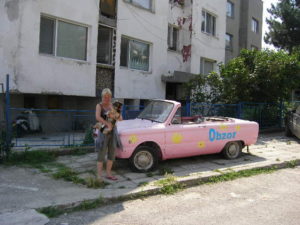 I began searching for property in Bulgaria in early 2004. I had initially wanted to invest in a property in a ski resort and had looked at various options from Austria, to Canada to Slovenia but eventually I settled on Bulgaria and Bansko in particular as it seemed to offer a decent standard of skiing, had a new lift system and a proper town, not just a purpose built resort. My research began as most people's does – browsing the internet and trailing through hundreds of websites viewing property details. Around August 2004 I received an email from a well known London based agent – Bulgarian Dreams (now defunct), who were just launching a new development right by the main gondola in Bansko and with five star facilities. I phoned the agent to discuss the development in more detail and requested floor plans. I was told there were only a couple of apartments left in my price range and so I would need to act quickly and reserve an apartment to avoid missing out on this amazing deal.
And I hate to admit it, but I got caught up in all the hype and put down a deposit on a 60 sqm 2 room apartment at around 1,100 Euros/sqm. It seems ridiculous now, when I can get a similar apartment for half that price but we live and learn. It then took at least 2 weeks for the agents to send out the contract and even then there were numerous mistakes in the contract. I had already agreed with the developer through Bulgarian Dreams that they would covert one bathroom into a kitchen and would fit this within the agreed price but this was not mentioned in the contract. There was no management contract at this stage either. But stupidly I handed over the 30% deposit. I then visited the development in October 2004 and found that it was much further away than the ski lift than stated, my kitchen was still a bathroom and my town view was of the next door block with my balcony being right over a road and carpark! Hardly mountain views!
I battled on for the next few months trying to get answers to queries, sort out figures to go on the notary deeds, get confirmation as to what was included…and got nowhere. I had by now started corresponding with a number of other buyers in the same development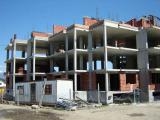 and we all had various concerns and unanswered queries. Then we were informed that despite paying an astronomical maintenance charge we would have to pay extra for use of the spa facilities when the development had been advertised as having 5 star facilities and many of us buying in the block felt we had been misled into believing the spa facilities were included. I was also told by the developer that if I wished to have the full purchase price on the notary deed, I would have to pay a further 20% in VAT. There were many unanswered concerns and the only response I could get from Bulgarian Dreams was that I should contact the developer.
By this stage I knew I had made a huge mistake and that the apartment was not a good investment and there were far too many discrepancies and ignored emails and letters raising various questions. Then it transpired that the developer was refusing to fit the kitchen (it would of course cost extra!) but the agent refused to take up my case or support me to get what I had agreed to purchase, despite the fact that I had proof in emails and writing that the agent had agreed with the developer that a kitchen would be fitted. In fact I was told that due to my behaviour Bulgarian Dreams would have nothing more to do with me and I was even threatened with legal action for discussing the purchase with other people also buying in the same development. Pure bullying tactics from a large agency.
But I refused to give in and eventually through direct correspondence with the developer and by visiting their offices in Sofia, I managed to get 2/3's of my deposit back, but Bulgarian Dreams refused to refund the additional 6000 euros they had made as commission.
They refused to answer emails or letters and I eventually wrote a letter before action requesting my money back or I would sue. This was ignored. I then made an official complaint to Trading Standards and was advised to write again, which I did to no avail. I then put the matter into the small claims court. The agent left it until the last possible day to file an acknowledgement and then said they intended to contest the court jurisdiction. Again they left it late to file their application and then refused to pay the fee required. Eventually they paid the fee and the director of the company put in a statement requesting the case be moved to London because they were such a small firm he could not afford a day out the office! This is despite Trading Standards being told that all three directors of the company were out of the country so could not respond to queries and the agency having offices in London and Bulgaria and advertising extensively in large newspapers and at homebuyers shows. The judge dismissed their application and I received judgment against Bulgarian Dreams and shortly afterwards they sent me a cheque for the amount claimed.
Trading Standards eventually decided not to prosecute. They said they gave the issue much thought and basically had really wanted to take it further but agents selling abroad fall into a loop hole in UK law where they are not caught by either the Property Misdescriptions Act, which does not cover property outside the UK, or the Trade Descriptions Act, which does not cover land and property. Therefore until the law changes agents can get away with totally mis-selling property abroad with no real recourse.
I have written an EBook about my experiences above which I am happy to send you for free (as its now rather out of date I am no longer selling it but a donation to the dog rescue would be appreciated). I am glad to report that Bulgarian Dreams went down the plug hole (although last I heard the directors were living it up in South America on the millions they scammed out of people), but that was little consolation for the hundreds left with no apartments or out of pocket…..Given the shear scale of development that has since occurred in Bansko, the subsequent property crash and the fact I could buy the same apartment now for a third of the price, I am very glad now I pulled out, despite all the aggravation.
~~~~~~~~~~~~~~~~~~~~~~~~~~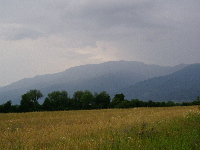 However, despite this initial set back I still loved Bulgaria and wanted to invest in property here but had decided that buying cheaper old rural property was a much better bet. I visited the country a number of times and travelled more or less all over the country to see the sights and get to know different regions, as well as look at various property offers.
In my search for property here I experienced agents purely out just to rip you off, giving misleading property descriptions, poor service and so on….property described as being close to the ski resort would actually be a 50 minute drive away, houses 'needing' some refreshment would be condemned in the UK and so on….But I also came across others (few and far between) that gave a tremendous service and were really helpful and friendly.
On one trip over to Bulgaria in May 2005, I met up with a guy who ran his own small real estate agency in the Stara Zagora region. I ended up buying a small old house through him. He was looking for someone to help in expand his business to the British market. I was working as a lawyer in a small high street firm in Cumbria. I was bored with the desk job and so after a while I handed in my notice and began working in partnership with this small agency to promote and sell properties in the Stara Zagora area.
I started taking clients out to the Stara Zagora area and also arranging to travel around Bulgaria with them. On each visit I would end up buying another one or two houses around Stara Zagora – at the time they seemed unbelievably cheap, although given what has happened with property market since, was maybe not such a good idea to buy so many! I ended up with a collection of around 12 properties, mainly older houses requiring renovation, but a couple of villas and plots of land. I spent the next 3 years or so renovating a number of these – not an easy (or cheap) thing to do on your own! And as a woman on her own here in Bulgaria, it was at times very difficult to get past the mentality that the woman's place is in the kitchen and having babies, and not giving orders as to how a property needs to be renovated!
Early 2006 due to various issues back in the UK, my partner at the time and myself decided to leave Britain and set up home somewhere else. Bulgaria seemed the obvious choice as I already had property here and the property selling business and website had started to develop well. We planned our new house and started planning for the move. However a couple of months before we were due to travel out, the relationship broke down and so I ended moving out on my own. The original plan had been to stay in the villa that was being renovated at the time and should have been more or less completed by the time I arrived at the end of October 2006. The new house was supposed to be finished around November/December 2006. However, when I arrived, the villa was little more than a building site but at least the shower room was done so I had hot water and a toilet, if no kitchen, doors and no furniture!
The new house build was another story and turned into another nightmare with one problem after another and in March 2007 I terminated the contract with the original builders, DreamHome.bg and attempted unsuccessfully to sue them and became embroiled in legal battles for around 5 years. Entering the Bulgarian court system is not something I would wish upon anyone and should be avoided at all costs. Even with all evidence in your favour, signed contracts and witnesses, unless you 'know' the right people and how things 'work', you will be fighting a losing battle and will end up paying out thousands in court costs and legal fees. Not only did I lose the case against DreamHome.bg, but I was stuck with a legal bill for the other side of over 5000 levs. This was never properly served on me and the first I really knew was when the bailiffs came knocking on my door. It cost me a further 1800 levs to stop them taking my belongings. On top of this I was taken to court by the builder's parents who claimed they actually built my house and so I owed them 130,000 levs (even though I could show bank transfers to their son for the full amount) and I have been sued for slander and defamation by the lawyer working for DreamHome.bg and after a farce of a court case where the lawyer trotted out witnesses to state how ill and stressed he had been because of the complaint I made against him to the law council here, I was found guilty and told to pay thousands in damages. I appealed and surprise surprise lost that as well, not that my useless lawyer bothered to tell me and again the bailiff (who just happened to be the fiancé of the lawyer that had sued me) sent me notices saying I had not paid in time (as had never had any notice to pay!) and so instead of original 6,500 levs to pay for damages and costs, total was 7,700 levs. I thought that would be the end of it – everyone had received a few thousand from 'the Brit' but no – summer 2010 I receive yet another court summons from the parents of the builder stating they wanted another 20,000 levs as they had built my house and it was now worth more than their original building quote. Completely ridiculous given I had no contract with them, had paid everything due and more and now 2 years after end of last court case, they decide they need some more easy money so off we go back to court………In the end I settled the matter and paid them yet more money with a court agreement that this would be the end of the matter with no more claims.
In Spring 2007, after various tensions developed with the agency I was working with (i.e. I would not sleep with the guy), I decided to branch out on my own and set up in my own office in Stara Zagora. I started to work with a few different agencies selling property mainly in the Stara Zagora region, over seeing renovations and arranging viewing trips, but a year and half later with the economic climate and slow sales, I decided to give up the office and work from home via the website to provide advice to those that are looking to invest in Bulgaria.
After a disasterous relatonship with a Bulgarian guy ended in late 2008, and as 2008 had been a particularly hard year with the recession and property sales slowing down and with the stress of the court cases and building work, I opted to get away from Bulgaria for a while and headed to the French Alps for the ski season to have some 'time out' and reassess what I wanted to do. But even though I was no longer in Bulgaria, my troubles continued. I had engaged a Scottish couple to house sit for me, keep an eye on things and look after dogs and cats while I was away. In the end they stole money from me, refused to move out of my house, tried to blackmail me to tune of 3000 levs and caused damage to the house (took all my pictures down and hung their own causing holes everywhere, moved my furniture into one room and all theirs in so there were knocks to door frames etc), grazed their goats in my garden causing damage and when I eventually managed to evict them with help of a friend in Bulgaria, the local mayor and police, they stole one dog and one cat and various other items belonging to me. Then they reported me to the National Revenue Agency in Bulgaria because I would not give into their blackmail and tried to get me prosecuted for not paying their social security contributions. Luckily this did not progress very far and was dropped as of course they were not employed in any official capacity, they were merely house and dog sitting with expenses covered. Then I had further problems with someone else I trusted to feed the dogs who rifled through all my personal belongings when given access to my house and demanded more money to look after things once he was in situ. You can read more about the Scottish couple here. And can categorically say, I have never checked myself into or been checked into a mental facility, although my dealings with many expats here in Bulgaria has left me feeling as though I maybe close to that point!
So at this stage I was ready to just throw the towel in and say 'Sod Bulgaria'. I had had enough, I just wanted to sell up everything, cut my losses and get out. I did even advertise all my properties for sale but the recession had just started to really bite and so nothing was selling. I admit to not wanting to return to Bulgaria at all in spring 2009, but once back and with all court cases over (or so I thought until summer 2010), building work sorted and finished, I had an enjoyable summer getting my gardens sorted out and socialising with friends. But at the time I felt Bulgaria was no longer where I wanted to live permanently.
Come autumn 2009 I again returned to France, initially to the Pyrenees area and then moved up to the Alps and found a fab apartment close to one of the largest ski resorts in the world. There I met Peter and in 2010 we set up a business in France, running airport transfers and chalet cleaning services and for a few years, we spent winters working in France and summers in Bulgaria. We also set up a small UK based charity for helping the stray dogs of Bulgaria and this has gone from strength to strength and is our main focus.
In 2013 we moved back to Bulgaria but our hopes of a settling back in quietly and enjoying the rural life were not to be. A couple we considered friends and who were renting one of our houses, turned very nasty and vindictive when we decided not to renew their lease. They had already caused problems the summer before, complaining of our dogs barking when theirs would howl for hours and because we had a friend staying in the property next door to them, helping with the foster dogs. Anyway basically in retaliation for asking them to leave at the end of their lease they reported us to the police, for assault and then for drug trafficking, given a several page sworn statement about how we grew marijuana, packaged it and drove it back to the UK to sell. Apparently the tenants had watched this go on for a long time but were too scared of us to say anything! The statement was pure fabrication and we could easily prove we had not even been in the country on dates they apparently saw white vans arriving and leaving, we could prove we had socialised on various occasions and they were not terrified of us. But why let a little thing like the truth get in the way when you can make a spectacle of the English here! Our house was raided and yes we hold our hands up and accept they found a few hemp plants growing around about. It grows wild everywhere here and Pete has decided it would be fun to let it grow. Not thinking of the possible consequences. He also had photos on his laptop of him by a field of the stuff growing wild, so this was taken as evidence we were mass drug smugglers! Chemical tests showed it was hemp and had negligible active compound in it, but why let that stop a complete farce of a police investigation. After months where nothing happened, we were told I could take the matter to trial and possibly face 8 years in a Bulgarian prison or cop to a lower plea of possession and pay a hefty fine. Given the options I chose the latter! Anyway eventually the squatters left our property and went off to rent off another English couple (poor buggers) and we could get on with our life.
Then on a whim we bought an old house in southern Austria as a ski home, and the plan was to spend winters there and summers here in Bulgaria.
But things never go to plan. In the winter of 2014 I found out my Dad had been diagnosed with cancer. We spent the rest of 2014 and early part of 2015 in the UK. Unfortunately my Dad lost his fight in September 2014. Losing someone so close to you puts a different spin on how you look at the world and what you want out of life. We returned to Bulgaria in March 2015 and made new plans to reduce our property portfolio even further, sell the Austrian house as we were fed up with the travelling between counties and had discovered whilst a beautiful country, Austria was not for us and was very expensive. We spent one last winter there in 2015/2016  and put the house on the market, selling it privately in spring of 2017. And we want to concentrate on what is important to us, the dog charity and spending time with friends and family and travelling and exploring new places.
In December 2016 we completed on a house near the ski resort of Borovets in Bulgaria and now split our time between this house and our other main property.
I have faced all sorts in the quest for a new life in Bulgaria, much I would not wish on anyone and it has been incredibly stressful and at many points I wanted to throw in the towel. I have made some great friends, and come across some truly horrible people, been stabbed in the back by many expats initially considered friends, but have certainly had some great experiences and some fun times. But have also come across more dishonesty and troubles than I have run into anywhere else – and not all from Bulgarians I should add, also from fellow expats and those who called themselves friends until they take what they want and you no longer serve any use, then they try and drag your name through the mud or simply cause trouble.
I hope this website will give some insight into what it is like to move to a foreign country, problems you could face, how you can avoid these. Of course I have no doubt experienced far more difficulties that most have, some down to my own doing, stupidly expecting contracts here to be honoured, expecting some I called friends to be loyal and honest, trying to navigate a corrupt and useless legal system here. If anything I have learnt that you often have to settle for less than your expectations here, standards of work and service are not always particularly high, just because you pay for something it does not mean you will get it. Here in Bulgaria you have to learn to go with the flow more, to relax and just see what happens (not something I find easy to do). And be very careful who you trust and be-friend.
– told you it was a long story…..!!!!
To be kept updated on available properties, website updates, news about the area, new house swaps and other information that maybe of use to you when considering buying in Bulgaria, selling, renting, house exchanges etc please consider join my mailing list. I only send updates once a month if that, so you will not be inundated with lots of emails and advertisements.