Bulgarian Ski Resorts
Brief Overview of Bulgarian Ski Resorts
There are 3 main ski areas in Bulgaria – Bansko in the Pirin mountains, Borovets in the Rila mountains and Pamporovo, in the Rhodope mountains. All of the three main Bulgarian ski resorts have under gone tremendous development, far too much in some cases. There are also a number of smaller ski areas with just a couple of runs. These tend to mainly cater for Bulgarians but are great for a weekend in the snow.
BANSKO
Bansko tended to be the most popular of the ski areas in Bulgaria, particularly for investment. This is mainly because of all the hype and coverage it received in the British press and the huge amount of development that has turned the small, quaint mountain village into Benidorm in the Mountains! There are hundreds, or more likely thousands of new apartments, hotels, complexes. There were rumours of some developments being built without proper planning, others being built to a poor standard and many were totally overpriced. Of course there have long been the rumours of any airport opening, more runs being built and more lifts put in and connections with nearby small ski areas. Little of this has ever materialised. But all that said Bansko has developed into a modern, popular ski resort.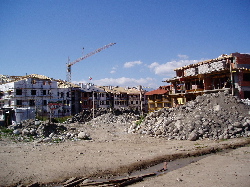 The old part of Bansko is lovely with cobbled streets and traditional Bulgarian architecture and some fantastic Mehana's. The ski area has had a fair amount of investment with new lifts and new style electronic ticket systems. However, still the main draw back  is that there is only one gondola lift up the mountain and thus there can be long queues. There is also a shortage of parking around the main lift and prices on the mountain and at the bottom of the lift are pretty steep for Bulgaria.
We were in Bansko mid January 2008, traditionally one of the quietest times to go skiing and yet we still queued for nearly an hour to catch the gondola. The only way to beat the queue was to be at the lift station for half past 8 in the morning, but then all the hotel buses were turning up, packed full of skiers so queue began to grow rapidly. That was the last time I ski'ed in Bansko. Once up the mountain there were no real queues for any of the chair or drag lifts.
Lift passes are priced at the same amounts as for some of the smaller European resorts. The cost is 50 levs a day (26 Euros) plus 5 levs refundable deposit for electronic lift pass.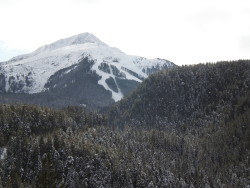 The ski area itself is fairly small compared to many other well known European resorts and more advanced skiers may find it a bit limited, although there are a couple of steeper runs and some off-piste can be found. The restaurants on the mountain are basically in two areas and there is only one or two separate places to eat higher up. You do not get any of the cozy mountain bars that you do in say Austria. And the drinks and food are horrendously expensive for Bulgaria, on a par with prices in some parts of Europe. For a hot chocolate or a beer it was 5 levs (2.60 Euros), a slice of pizza was a whopping 6 levs (only costs 1 lv in Stara Zagora), and anything more extravagant like sausage and chips or soup and bread would set you back 12 levs (6 Euros)! Even in France you can get a 3 course 'menu du jour' for 20 Euros.
The resort is also at least a 2 and a half hour transfer from Sofia, which is the nearest airport.
The development around Bansko now stretches towards the municipality town of Razlog and around where the new golf course was built as well as creeping closer to the nearby villages. There were serious problems with the management of these apartment blocks in many cases back in 2008 and 2009.  There were also many stories of holiday makers renting apartments only to find the apartment block is not completed or they are put up in apartments where the owners do not even know they are being rented out.
However, as time as moved on things have settled down somewhat and while still very over-developed, Bansko is now seen as a viable and comparable ski resort to other European resorts and now hosts world cup ski-ing and snowboarding competitions, including the women's FIS ski'ing competition.
Dobrinishte 6km away has one old chair leading to a long ski run. Kulinoto is just 2km from Predel and 12km from Razlog, close to Bansko – there are two drag lifts and plans to increase the ski area but would not hold your breathe.
We've visited Bansko a couple of times in the summer, once for the annual Jazz festival and the town is lively and there is plenty to do in the summer as well. The Bear Sanctuary is not far away, the area is developing for walking and mountain biking and there are various mineral spa baths around and the golf course. We hope to get there ski-ing at some point to be able to give a proper over-view.
For more on Bansko please see TheSkiBug website.
Property: I used to get a handful of emails each week from people who had unfortunately bought into the hype and purchased an apartment in Bansko. They were facing problems with the developers (most notably and most often Bulgarian Dreams) – lack of planning permission, completion years late, refunds promised and never received….. At the height of the 'Bansko boom' studios were being sold for 40,000 to 60,000 Euros and larger apartments for around 130,000 Euros or more. These prices were just ridiculous. Then with the economic crisis, over-development and the fact that bottom had dropped out of the Bulgarian property market, I was getting emails from owners desperate to sell their Bansko property. Often they were promised guaranteed rental yields of up to 10%, rents that never materialised, capital gains that were never achievable.  I am now pretty out of the loop with regard to property in Bansko, except for properties I see advertised online. You can now pick up an apartment in Bansko for a reasonable price but make sure you visit it first to check out the location, quality of build, management of the complex. Certainly similar to the apartment I was going to buy for 60,000 Euros, you can now get a 2 bedroom in the same complex for half that if not less. Studio's can be picked up for 10,000 Euros or less.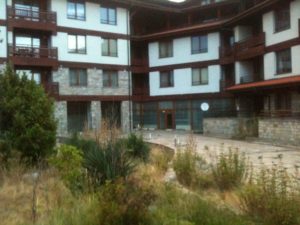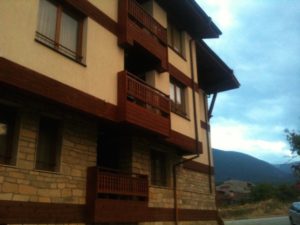 BOROVETS
Much was been made of the Super Borovets Project but so far, despite talk for a few years, nothing much has happened and now all seems rather quiet (2015). There is the potential for an excellent ski resort, close to the capital and airport (with Easyjet flights from Gatwick and Manchester now available and WizzAir from Luton) and with stunning scenery.
The Super Borovets project has caused much controversy since it was first mooted. It was the brain child of the former Bulgarian King, who managed to 'regain' a lot of forested land around Borovets and the head of DZI bank was financing the project. However, the King, who was also President for a time, lost power and the bank boss was shot and the project looked in jeopardy. However, the bank boss's wife, after much deliberation, sold her share in the project to Glavbolgarstroy- the leading construction company in Bulgaria. A British investment firm, Equest, then bought a stake also. The Sultan of Oman was apparently also involved. The plan was to build a further 80km of ski runs and 15,000 extra beds and the resort would have a capacity of 30,000 to 35,000 skiers a day. At the moment the resort has around 10 or 11 ski lifts with total capacity of about 14,000 skiers a day and 17 slopes with total length of around 26 km. The Super Borovets Project aimed to build 19 new slopes with total length of around 95 km. There was to be three distinct new areas:
Samokov: A gondola from Samokov was to be the the first new lift and work had apparently already begun on this just outside Samokov town. A long ski trail was to allow skiers to ski back down to this new 'lower Borovets'. Various chalets and new developments were to be built in the designated area around the new gondola station. The company behind the Super Borovets project owned a fair amount of land around the gondola, so ensuring this area would be developed. The ground breaking ceremony for this first new Gondola was on the 8th October 2007. The first phase (40km of new runs) was expected to be completed within around 2 years. New hotels and apartments and infrastructure were to the follow, to avoid the problems and over development that Bansko has suffered from. As of 2015 nothing had happened.
New Borovets: A new gondola would then join the area designated for the golf course and new luxury hotel and chalet area, although you would not be able to ski back to this area. The gondola would connect this new village to the main ski area, via a middle station, just down from the current resort centre. The area for this new village is right in the mountains with stunning views. Within the current resort, lifts will be improved and new ski runs created. A reservoir was to be constructed to improve snow making capacity and new sports centres and eco trails built. Again the Super Borovets company own large plots of land around the new gondola station and so development here was supposedly guaranteed.
Beli Iskar Area: The village of Beli Iskar lies in the mountains very close to Samokov and Borovets and by 2008 had already seen a few new houses and small apartment blocks being built. On the plans for the Super Borovets project there was a new lift and ski runs connecting the village to the main Borovets area. However, the Super Borovets company does not own any land in this area and so this was likely be the last area to be connected to the current resort and was not as guaranteed as the two areas above. That said it is very beautiful and only a short 15 minute drive to the main resort centre or a 10 minute drive to where new Samokov Gondola will supposedly be.
The nearby villages of Goverdartsi and Madzhare are in stunning locations and only a 5 to 10 minute drive from Beli Iskar and 15 minutes from Samokov.
To date Borovets has also under gone a fair amount of development but not on the scale of Bansko and as it is a purpose built resort, nestled in the mountains and surrounded by forests, the new apartments and hotels are not as obvious as around Bansko. Borovets itself is a small collection of old communist style hotels and newer, smaller hotels with some new apartment blocks very close to the ski lifts. A few years ago it was quite a tacky place with Karaoke bars, English style pubs and strip bars. Walking up the main road with all the bars was a fight to avoid people trying to entice you into their bar, and while this all still exists it is now much more family friendly and it is a cheerful,lively place.
But again for those used to more "local" Bulgarian prices, you will find eating and drinking out in resort very expensive and with daily lift passes being 55 levs, kilometre to kilometre it is quite a lot compared to larger French or Austrian resorts.
We now own a house close to Samokov and ski regularly in Borovets. The area is not massive but there is some decent ski-ing and boarding,some harder steeper runs and we love it, its a small friendly great place to ski. For more and regular updates please visit TheSkiBug Borovets page.
There are two ski areas connected by a fairly flat track – the area served by the 2 chair lifts in front of the large Rila hotel and the area served by the Gondola and then a four man chair and drag lifts and a chair at the top. The resort is an hour from Sofia airport and only an hour and a half from Plovdiv airport
PAMPOROVO
Pamporovo is the lowest of the Bulgarian ski resorts and thus famed for being the sunniest. I skied there once when I was very young and always remember it has a fantastic ski holiday. That said it has changed a lot and again there has been much new development. Pamporovo resort suffers from not having a proper centre or town and just being a collection of hotels and apartments in the trees and with lifts going from various areas, it has a very disjointed feel to it. It really caters for beginners and intermediates. There is nothing to really challenge a decent skier. But it is only an hour and half from Plovdiv airport, where Ryan Air now have budget flights and it is a very pretty area, good for walking in the summer as well. There are many pretty mountain villages not far from the ski resort, offering the opportunity to purchase a lovely holiday home suitable for skiing in the winter and relaxing and walking in the summer. It is a gorgeous area.
And it should only improve. Now the village of Stoykite is linked to the main ski area by a new fast chairlift and the small ski area of Chepelare is now covered on the same ski pass and the area is know as Pamporovo-Mechi Chal. At the moment the two areas are linked by a free shuttle bus which takes around 15 minutes, but in time there are plans to build new ski lifts and ski runs.
Located only a 10km kilometres from Pamporovo, the town of Chepalare itself lacks any real charm, although the position and scenery are lovely. Just outside the town there is one old chair lift with a couple of pistes down from it and a few drag lifts at the top. It boasts the longest ski run in Bulgaria. The height at the top lift station is 1873 metres. There has been a small amount of development but it is still a very traditional Bulgarian mountain village. This could change if the plans to link in with Pamporovo come to fruition.
Momchilovitsi is is 12km from Pamporovo and boasts a snowboard park a few kilometres away from the village. I have never been personally but understand it costs around 20 levs a day for lift pass and board hire.
For more updates visit TheSkiBug Pamporovo page.
VITOSHA MOUNTAIN
Most of the development around Sofia focuses on city dwellings and business areas. The area around the ski resort of Vitosha (although to call it a resort might be stretching it a little) is very expensive and many of the wealthier Bulgarians who work in the city own property here. The ski area itself is fairly small with just 6 runs. There is now a new gondola from the bottom of the mountain with parking and many new apartment blocks around it. Other access is by road to the small car park and where there are one or two old hotels and a couple of antiquated chair lifts. I have only visited the area in autumn but it is a popular place for a day's skiing for Sofians but lacks the infrastructure and après ski for tourists of other Bulgarian ski resorts.
SMALLER BULGARIAN SKI RESORTS
Buzludzha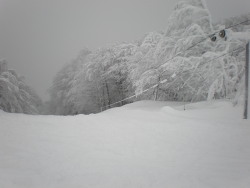 Buzludzha is a small ski area in the Balkans, just up from Kazanlak. There is no direct access from down in the valley and you have to drive to the top (4 wheel drive or snow chains advised in winter). There you will find 2 poma lifts and a couple of smaller drag lifts with 2 or 3 main runs and maybe a couple of kilometres of pistes. The area is really for locals to pop up to on a weekend to get in a little skiing but it is a quiet place with a couple of hotels (one recently renovated and one not) and a basic hostel with dormitory style beds. The hotels are around 25 levs a night (13 Euros) and the hostel was 10 levs a bed (5 Euros) with cooking facilities and proper bathrooms.
We have not been here in the winter for a long time and not sure if the ski lifts are even still operating but it used to be a popular place at the weekends.
Uzana
Located on the north side of Balkans, not far from Gabrovo, this is a small ski area, with a few hostels and the odd hotel. I visited this small ski area at New Year 2007/2008 and was sorely disappointed. It is really a collection of old run down hostels and a couple of newer hotels, all very spread out and up single lane, icey roads. It seems to take an age of driving up a windy, snowy and icey road from Gabrovo (about 15 to 20km) to reach the 'resort', but then you really have to choose which small icey lane to go up to get to which hostel or hotel. Each hostel or hotel has a small drag lift near it and this is the extent of the ski area. The runs are all very spread out and are short and there are 6 or so of them. You cannot ski or really walk from one to another. There is a longer run with a rope tow but how to access this run was not very apparent and we simply past it on the road up.
But friends have since been (in 2017) and have said its great for a day's pottering about on the ski's. There are only a few hundred mtrs of pistes with 3 runs which are linked giving approximately a km in total with a short black run, the rest are green. The lift pass for this area was 10 levs but there are other ski lifts operated by hotels there and for which you must pay separately.
Lake Batak (Tsigov chark)
Another small ski area mainly used by Bulgarians and suitable really for beginners and boarders. There was meant to be some development going on in this area, including a new hotel with its own private ski runs, but generally not much is ever heard about it and when we tried to find it in the summer of 2016, all we could find was a half built hotel with an old drag lift by the side and a security guard that did not want us anywhere near!
Osogovo
Osogovo is a small ski area, known for its snow park, 15km from the western town of Kustendil and on the Macedonian border. This area gets quite severe winter weather and so tends to have good snow coverage.
We drove up to the ski centre in the summer and it was a very long drive up the mountain and not one I would want to do in bad weather and snowy conditions. At the top there were a couple of newer hotels and the odd restaurant.
There is one main ski piste with a drag lift (free for kids) and this is at around 1800 metres above sea level. It is meant to be for more advanced skiers. There is another intermediate piste which is a little longer and then a shorter run for beginners.
Osogovo is mainly known for its fun park for snowboarders.
Others
There are a number of other ski areas around Bulgaria, mainly in the Rila mountains. 17km from Belitsa you will find Semkovo with 7 runs (around 4km in total) serviced by 8 drag lifts and fairly developed tourism for a small ski area. Malyovitsa is 27km from Samokov and has 5 drag lifts, Govedartsi close by has one ski run although access is not easy and Panichishte has around 5 runs and is on the edge of the Rila National Park.
On the north of the Balkans, Berkovitsa 89km from Sofia currently only has a couple of drag lifts and Parshevitsa is 25km from Vratsa and has one run.