Properties I Have Now Sold
Sold Bulgarian Properties
Over the last few years I have slowly sold off a number of the properties I originally invested in. It became too much to manage them all, they were fairly spread out around the Stara Zagora region and it was a constant worry and aggravation to ensure the gardens were kept tidy, the properties in a good state of repair and check that there was no un-authorised use. Most of these were sold at a fairly large loss, but I feel this was the right decision and has meant we can spend more time on the few properties we have left, that are all in the same village.
Small Little Bungalow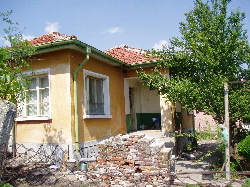 This lovely little house was in a very small rural village about 30 minutes drive from Stara Zagora. It was on the edge of the village, opposite bus stop and close to village shop. There was a small plot of around 150 sqm in front of the house with vines and fruit trees (apple, fig, cherry), two small animal pens with small holding area to the left of the house and then behind the house there was a lean to barn (partly collapsed) and a few small outbuildings and then a field of around 2000sqm. I bought the house for 4,600 Euros in 2005 with the intention of doing it up and selling it on. A few years later and this was never going to happen.
In 2010 I decided to try and sell this house and sold it un-seen to someone who completed by power of attorney for 3,000 Euros. As far as I am aware the person has never been to see the house and I still have the keys!
Red Brick House Close to Station
This was a lovely 2 bedroomed house situated in a quiet village 19km off the main road from Stara Zagora through to Chirpan. It was perched on a small hill with good views over surrounding fields yet only a 2 minute walk from train station. Downstairs, which was accessed through an old glass 'conservatory' with an indoor sink, there were two rooms, one with exposed stone walls and an old open fire place and concrete floor, the second is smaller but with plastered walls. The second floor was accessed by external stone stairs and there were two decent sized rooms and a smaller room accessed through one bedroom.
Behind the house there is a large plot of 1,900 sqm and to the side a small area with vines and a few fruit trees. There was a lean to shed/garage to side of house.
I first viewed this property in October 2005 with the agent I was working with and a client bought a house on the other side of this village. However, it was the opposite side of the city to my other properties and so ummed and ahhed about it for ages. There was a fair amount of interest in the property but it was still for sale in March 2006 and so I agreed to buy the house for around 7,000 Euros.
But after a few years of driving all the way there to check on it a few times a year I decided to list it for sale and sold it in the summer of 2011. Again it was sold for half of what I paid for it. The couple bought it un-seen from eBay but I am happy to say are now living there and renovating the place.
Little House Close to Balkans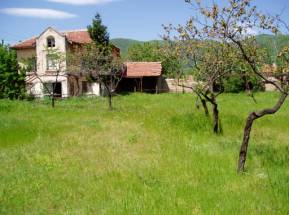 This was my first purchase and cost 5000 Euros and I did think it was a lovely house. It was only a couple of villages way from where my main home is but I was never going to get round to renovating it and it was starting to fall into disrepair so in late 2011 I sold this for just over half of what I paid for it and the people now live there and have become good friends. They bought it un-seen from an advert on ebay.
Renovated Villa Split into Two Apartments
I initially viewed this house in October 2005 and was quite taken with it, especially by the lovely orchard in front of the house but the village was on the opposite side of Stara Zagora to my other houses and so decided against buying it.
The house already had indoor bathrooms and toilets although these were just old wet rooms and needed totally ripping out and new fittings and tiles. There was only an old rusty external metal staircase leading to the second floor.
The garden was around 850 square metres and contained many fruit trees including peaches and apples. At the bottom of the garden there was a small barn, which was used for rearing rabbits.
In March 2006 it was still for sale and I visited it again. This time I viewed it purely as an investment property and for rental. It needed no real structural work doing to it and could just be turned into two one bed roomed self contained apartments, each level having a large bedroom, a kitchen/sitting area and a shower room/WC. The bathrooms and thus septic tank were already in but needed updating and the property would need new external stairs to reach the second level and the balcony tiding up and making safer. So I put in an offer of around 15,000 Euros, which was accepted.
I visited the property again in June 2006 following completion of the sale and noted that now all the furniture was out, it was maybe not in quite as good a state as I had remembered. The windows upstairs were not properly fitted and some needed new glass and there was a fair amount of internal plastering to be done such as around doorways where bricks were just left exposed and there was a small leak in the roof.
I decided on the work to be done and for just short of 8,000 Euros I was to have new PVC windows fitted, two new bathrooms installed, all wiring checked and sockets and switches replaced, loft boarded out and insulated, roof tiles checked, new external metal stair case, balcony rendering and new hand rail, internal wall moved and rebuilt to make one shower room room slightly bigger and touch up plastering work done.
Renovations commenced in summer 2006 and this was the property I moved into initially when I first arrived in Bulgaria in October 2006. There was nothing more than a wet room finished when I got there, no kitchens and still a lot of work to be done, but by February 2007 I had finished the renovations and decorating. I still have very fond memories of living here and many of my clients from those early days came to stay in the upper apartment. After moving to my new house in the summer of 2007, this was rented out a couple of times but this was always more hassle than it was worth with tenants causing damage and leaving a mess and large bills. So then it became necessary to visit every so often and clean and keep the garden tidy. I decided to put the villa up for sale in 2010 and did have a sale agreed for a good profit, however 5 months later the seller still would not complete the paperwork and so that fell through. It was emptied of furniture and the price reduced and re-marketed and in 2011 it was sold for a few thousand less than I had spent on it to a Bulgarian family.
Un-renovated Villa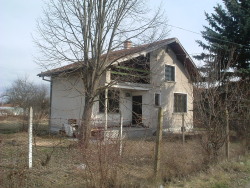 I had specifically gone out in March 2006 to view this villa as it was in the same village as two of my other properties and I wondered whether it would make a good place for me to call home.
The villa was very sweet and already had internal plumbing and a small wet room. There were two decent sized rooms downstairs and 2 bedrooms upstairs, accessed by some steep external metal stairs and a lovely, wooden paneled tavern.
The house was sat in a decent sized plot of land and the plot opposite it was for sale also. I decided that as it was in the same village as my other two properties it would be silly to miss out on the opportunity to buy a third property close by. So I put in an offer just below the asking price of 16,000 Euros and this was to include the plot in front which I could use for growing vegetables or a building plot later on. Over the years friends lived in the villa for a while as they did work to their house and it was rented out on very low rent for a time. But in the summer of 2012 we decided to put this up for sale and it sold a few months later to a Bulgarian couple for a few thousand less than I had paid for it.
100 Year Old Traditional House
This old traditional house immediately grabbed my attention, I just loved the architecture and traditional look of the property. I agreed to buy it in 2007 and a year or so later rented it out on a very cheap rent to someone just wanting a village property to go to to escape from the city in summer. They were the perfect tenant and paid on time and were no trouble. In 2011 I asked if he would like to purchase the house as it was quite a drive from where I was living. He said he would but could not buy it for a year or two. So we agreed he could buy it when he was able to for the same price I bought it and in the meantime he started to do bits of work on it. In 2012 the sale was completed.
Renovated Cottage with Guest Annex
I bought this little old mud brick cottage back in 2006 and it was one of the first renovations I undertook. I spent an awful lot of money on the work; far, far, far too much. A ridiculous amount but I was new to Bulgaria, did not have a clue on the cost of things and was likely very very ripped off. But the finished house was lovely with stripped and stained wooden ceilings and beams, the character kept all the way through. It was a small house with a kitchen/dining area downstairs, a toilet and a small lounge. And then external stairs to two bedrooms and a shower room.
I furnished it and tidied the garden (but did nothing with the rest of the plot next door)  and it was used for short term lets for a few years. I loved this house and had to think very carefully about whether I wanted to keep it or not. But after the troubles in 2013 with our squatters and wanting to free up more time to spend on other projects, I offered it to sale to a lady that contacted me looking for renovated property in the area. I dropped the price massively and sold it for a third of what I had spent on it, but it does not have lovely new owners, who are good friends and will shortly live here full-time.
Studio Apartment near Coast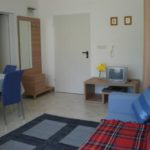 We bought the studio in 2011 to rent out and for friends and family to use, but no one really did and it was just one more property to pay for, worry about etc so we sold this in 2016 for the same as it has cost us.
One Bed Apartment At the Coast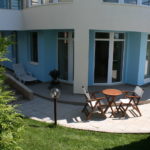 We absolutely loved our apartment at Sunset Kosharitsa but after several years there decided it was really not worth paying out the annual 500 Euros maintenance charge when we only got to use it a few days a year. And we had explored much of the area and so we listed it for sale and found a private buyer and completed the sale in September 2017.
Little house near Pleven
This was one of 6 houses we acquired as a package deal. We went up in the summer of 2017 and tidied the plot and house and then listed it for sale and were pleased to complete on a deal in the winter of 2017.
Small Old House near Svishtov
This has been a fantastic little character house before being abandoned. It was on lovely spot with lovely views. Now it has a new owner and we hope they'll restore the house to former glory. Acquired as part of a package of houses and sold in winter 2017.