Large Renovated House
Renovated Bulgarian House – Large House Split into Two Apartments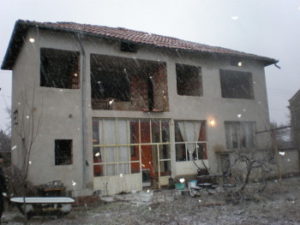 I saw this advertised on another website and recognised it as the house next door but one to me. So I made an enquiry about the property and discovered that it was actually the agent's family that owned it.
Initially it was for sale for 15,000 E but they agreed to sell for 13,500 E and in February 2008 I completed the deal on this property. Given that it was a large property, although in need of much work, I felt this was a fair price, given the market at the time. Way too much now with hindsight!
The ground floor had a conservatory type entrance hall, leading into a large central hall and then there was a kitchen and dining area with indoor sink and a further bedroom. Enclosed, but separate stairs led to the second storey, which was only at shell stage. The stairs continued to a large loft space. There is a large corner plot of around 1000 sqm with a nice traditional mud brick barn.
I opted to keep the same layout and make this into two large one bed apartments. The roof was completely re-done, the property re-wired and new plumbing and a new septic tank put in. Inside was completely re-plastered and new windows were fitted. The property was painted outside and new terrace railings fitted. Eventually I told the builders not to bother coming back to finish as they had been saying for months they would do the last bits and never turned up. The window people did come back to fit the mosquito nets that had been paid for but managed to break a window in the process so had to get that replaced as well.
I was told I had to pay 250 levs for a new electric meter, yet a couple of months later this suddenly disappeared. When I went to the electric board to enquire about this, I was told there was 110 levs outstanding on the electric that had not been paid since 2003. This was the old owner's bill. Having faced this problem before I had specifically requested my lawyer at the time to ensure she was given the latest invoices for water and electric and they were both paid uptodate. EVN have taken the meter and cut off the electric supply until this bill was paid and in Bulgaria, debts such as utility bills and mortgages pass with the house – so BE CAREFUL! The electric and water board do not bother to chase up these Bulgarian owners for the money and let bills go unpaid for years and years. It is only when the new owner comes along and tries to get a new account number etc, that they demand payment for the last 5 years. Too much hassle apparently to chase people up, they just wait for the new owners to come to them. Oh, and also discovered that I should not have paid 250 levs for each new electric meter. This appears to have been a con, even though I visited EVN before hand and was told by them to ring a certain guy to change the meters and pay him. Looking back I was still very naive at this stage, trusting people I thought had my best interests at heart (my lawyer for one) only to discover that pretty much 99% of the people over here are out to con you and are accepting backhanders from all sorts.
And same thing with the water – around 250 levs outstanding on the water bill from last owner plus there had been a leak during winter and so total of around 600 levs owed in water.
By September 2009 I had a new water meter fitted, all the mud brick walls around the property were repaired and the kitchens were fitted.
In 2011 we agreed to let two people we thought were friends rent the property. Unfortunately this turned out to be a massive mistake and they refused to leave at the end of their agreement and squatted in the property for over 5 months. They did everything they could to cause trouble, calling the police on us at every opportunity and when they eventually left at the start of winter 2013, they left an awful mess and damage. Once again these were people we had considered friends who screwed us over. But this situation caused us to take stock and we made the decision to sell another property we owned in the village and used for holiday lets and instead use this one as it is closer to our main home. We will not be renting long term again to anyone.
We did decide to try and sell this but after having various viewings we have decided we really do not want close neighbours and so will be keeping this property, maybe using it for holiday lets, or maybe just for friends to stay in. It is a lovely renovated bulgarian house.