Plot Next Door (Current Project)
I have to admit to doing what I always advise others never to do – buy blind! I had not actually visited this old Bulgarian house before purchasing it but I knew exactly where it was and had a rough idea of what was there – it is the next door plot to my main home and so when this came up for sale in 2006 at just short of 7,000 Euros I thought I would regret it later if I did not buy it, even if rather overpriced.
The plot is around 1,300sqm and the old Bulgarian house was solid, but dilapidated with a large room and central large hall on each floor plus cellar type room. There is a massive barn, although this has now partially collapsed and another smaller barn.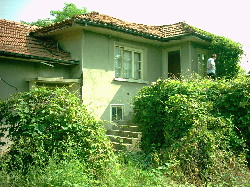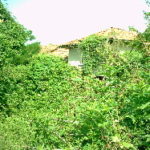 I did absolutely nothing with this until June 2011. We had to hack our way in and fight through very overgrown vines to even find the house but overall, apart from downstairs hall being used by birds as a nesting area, the upstairs was in fairly good condition and dry and secure. The next door neighbour came to see what was going on, disappeared and then as we were inspecting the house, we heard a chainsaw start up and went back to find him cutting down trees and clearing a path to the house! In summer 2012 we started to slowly clear the plot and this has continued slowly over the last couple of years. We have slowly repaired the mud brick walls around the boundary and have taken a large number of tiles off the collapsed barn roof.
The house has now partially collapsed, the roof is caving in and the old summer kitchen is now just a pile of rubble and tiles and had a tree growing in the middle of it. We have spent the last 3 summers clearing the plot, cutting down trees and old vines. We will start on repairing the old pig barn with a new roof. We have plans for more dog runs and kennels here.