Main House (New Build)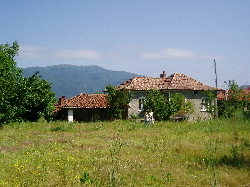 I fell in love with this property immediately. From the road, it really did not look much, just a small grey house. But you went through the gate and into a large walled garden with a stable/barn on your left. The house faces the garden and had just 2 rooms on the second floor with a large hallway then a cellar underneath. There was a barn to the left attached to the property and further small out buildings to the right. The garden had a few fruit trees, grape vines and a well.
[Here is a video of the house and plot from when I first bought it]
It was for sale for 6,000 Euros and was one of the many rural properties I bought back in 2005 and 2006. I also bought the old house and plot next door to this and had purchased another old house and a villa in the same village. Originally the idea was to renovate the villa for my main home but I preferred this plot and so opted for this property and for a new house build in Bulgaria.
RENOVATIONS
My original plans were to simply convert the attached barn into a lounge, maybe with a mezzine and put a kitchen in the basement after digging it out a little and place a bathroom where the hallway is. However, I had an architect and a structural engineer visit the property and in their opinion it would not be possible to dig out the basement to make a kitchen as this would weaken the foundations and make the house unstable. Also the barn attached to the side needed more or less rebuilding. The architect drew up plans which included keeping the original part of the house but demolishing the barn and extending the property out to the front to make into a 2 bedroomed house with kitchen/dining area and lounge plus bathroom and downstairs. However, after many weeks of then not getting any further response from this architect and when I finally did hear, being basically told I could not have rooms as I wanted them, I decided to look for another architect/designer. And as you were not really going to see the original house at all when done and as it would be mostly knocked down to re-design the layout, I decided it was easier (and cheaper) to just flatten the house and start again on the plot. I engaged a company based in Varna but with connections to Stara Zagora and using my ideas and designs came up with the below design:
The quote for all this was originally around 64,000 Euros to build house from scratch. This was to include wooden flooring, new septic tank, full insulation, solar panels, 3 fire places attached to heating and hot water system, two fully fitted bathrooms, painted inside and out and basically except actual light fittings and kitchen, ready to move into. Plus all permissions and permits required to allow me to live there permanently.
This was to be my main home so I wanted it to be perfect.
NEW HOUSE BUILD IN BULGARIA 
The whole new build turned into a nightmare and not something I would want to attempt again. The full details of the protracted court cases and issues with the builders are detailed here.
Contracts were eventually agreed and exchanged in August 2006 and work began.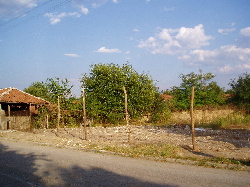 The original little grey house was demolished and work started digging and laying the foundations.  The plot actually slopes gently and is slightly lower than the road. This meant the house had to be build up further to avoid any flooding risk and a large terrace had to be built to the front of the property and steps down from this into the garden.
I met with the architect and went through the hundreds of plans and detailed dimensions to ensure I was happy with everything. Despite not actually agreeing to terrace dimensions or design, foundations for the terrace, the builders went ahead and did the foundations for it anyway. I could not get any definite cost for adding the terrace but it turned out to be a fair bit more.
Despite being assured the house would be finished by the end of October when I arrived in Bulgaria to start my new life, it was little more than a shell with no roof, plumbing was not finished, no electrics and a heck of a lot of work left to do. I was also informed that to finish house would cost me a further 15,000 BGN which I refused to pay. Then further figures were banded about of up to 30,000 BGN to finish house. Eventually it was agreed they would finish under contract for price agreed. I was then rushed to choose tiles, lights, doors etc.
The wiring then had to be redone as the electrics were put in before the lights and sockets were agreed with me and I insisted on more than one socket in each room.
By December 2006 the roof was on, external insulation done, plastering done on outside and starting to look good.  There was just the internal finishing works to be done now. I opted to pay more for better doors, tiles, shower cabins etc and expensive wooden floor. These costs were not anticipated but seems the quote only included horrid cheap wooden flooring, cheap tiles and cheap internal doors and so on. The solid oak wooden flooring I choose would take 2 months to be made so completion was delayed until the end of January. In the meantime I had ordered tiles, and then 6 weeks later had to order more tiles as the ones I had chosen and paid for and told would be available in 2 weeks, were suddenly no longer produced. Was then told the wooden floor I had chosen and wanted was also not possible and so had to settle fora different design. By this point I was completely sick of delays, problems and arguing with the builders and just wanted the house finished and to move in. I was still living in a small villa I had purchased and renovated around 40 minutes away.
By February 2007, when the house should have been finished, the bathrooms were still not done, I ended up having to pay extra for the fireplaces even though they were meant to be included in the price, there was no flooring down and no lights fitted.
Then another problem materialised. I met with a kitchen designer only to find that the height from the floor to the kitchen windows was only 75cm, but standard units are 90cm and so there was not room to fit the kitchen under the windows without stopping the windows from opening.
I was then told the light fittings I had chosen were not suitable and so found others, only to then see that infact the original lights had been put up anyway. So all these had to come down and the new ones go up. More money wasted.
In March 2007 I was told the wooden floor could not be laid as house too damp and so dehumidifiers brought in to dry it out. This would take a week and then they would need a further 2 weeks to lay the floor so the end date was pushed back until April. yet by mid March nothing had happened with regard to this.
By this stage I had also notice that the finishing work was not at all up to scratch – sockets and switches were loose and not level, there was poor plastering in places, poor tiling in bathrooms, the vaulted ceiling was a total mess, two of external doors had no handles on outside so could only be opened from inside, no light switches outside were on the terrace as requested, the wooden floor was started but not level with the tiled floor, one fireplace was a complete mess and one fireplace was missing, there was poor paint work, poor roof gabling, the terrace railings were already going rusty, the French doors could not open as they were not fitted properly and the wooden floor was not level so was higher than the bottom of the doors and so on…..
This was the last straw and so I requested my lawyer to terminate the contract and decided to employ different builders to resolve the issues. I requested various sums back from the builder for items I had paid for and that were not fitted. I commenced court action to recover some of my money and had to fight to get the keys back to my house.
Experts visited the house, protocols were prepared on the state of the house and standard of work and notary appeals sent to the original building company.
The wooden floor then completely warped and had to be removed entirely and was only fit for burning. Thew new builders started work repairing the problems and completing the house.
Unbelievably I was then served with a court summons from the parents of the guy who owns the original building company, demanding that they be allowed their experts to inspect the house and that they basically then intend to sue me. WHY? Because I misled them with my pretty and nice behaviour at the beginning so they built my house for me for free, and then I have constantly refused to sign a contract or pay what I owe!!!!!! This is despite having a contract with the original building company and paying them far more than I should have done anyway and having bank transfer documents to prove money sent!
This was the start of 4 or 5 years of court cases, costing thousands. Full details are here.
The new builders levelled all the floors in the house and this time I opted for laminate flooring. I had a lovely central rose piece carved by a local carpenter to go on the bedroom ceiling and the wooden gabling around the edge of the house was re-done. By July 2007 the new builders had nearly finished inside and the old farm buildings had been converted into dog pens.
By August 2007 the kitchen had been fitted and driveway gates made and fitted and in September 2007 I eventually moved in. But I was still finding more and more problems and slowly trying to rectify these. The shower in main bathroom leaked terribly and totally flooded the floor and started to seep out into corridor. So I got the shower taken out and pipes inspected. Surprise surprise, the original down pipe that had been put in was totally warped and had massive hole in it. This was replaced. The boiler in the ensuite had to be fixed twice as first thermostat broke before even used and then another part broke.
In the meantime the court cases were continuing slowly and I had been harassed and threatened by various people connected to the builders. I tried to settle the matter out of court but was just told to pay more and more money to make the matter go away.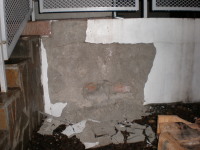 In the winter of 2008 with all the ice and snow and also because terrace was not plastered properly in first place, the plaster all cracked and fell off so this was re-done in the spring with kayak (decorative stone facing). I also had some paths laid in the garden and an area fenced off for the vegetable garden and a BBQ area built and grape vine supports along one side of the garden. Costs seem to spiral and seem out of proportion with the work being done but……
By summer 2008 most building work was finished and I had sown grass seed. I had to have all the doors re-hung again as they had all come mis-aligned and moved and had large gaps between the frames and walls. The railings around the terrace had all gone rusty and so these were treated and re-sprayed.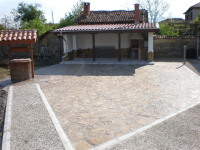 The summer of 2009 (after winter in France and finally getting rid of the Scottish couple who had squatted in my house) I began building some rockeries and making flower beds.
By summer 2010 we had to have the driveway gates replaced. The original expensive wooden gates lasted all of 3 years with several fixes. Also had to have a boiler replaced.
I also decided to try and get security grills fitted on windows and doors for better security when we were not at the property. I made contact with an English guy from Veliko Turnovo way, who held himself out as a welder and metal worker. After email correspondence he visited my home and measured up and gave me a price. It was agreed he would complete the work by end of September/October 2010 and I paid him 1000 levs deposit for materials. I had left Bulgaria by the start of September and had arranged with a friend to oversee the grills being fitted and pay the rest of the money due on completion. But then all went very quiet. After several emails I eventually got a response to say he had been busy finishing another job and grills would not be ready until November. So again arranged for someone to be around. Then silence again…then got an email demanding further money be paid before he would do any more work. I eventually managed to get photos of a couple of the grills and said that the agreement had been that the rest of money would be paid on completion but that if more money was required now, then I wanted something in writing to confirm 1000 levs already paid and the further 1000 levs now demanded. He refused, got very rude and abusive and basically refused to finish the grills. I offered to pay the full amount agreed and then he could just deliver them but he insisted he was to fit them and this was going to cost more. I refused. So for the last 3 years he has had 1000 levs of my money and I have had no grills. Eventually he agreed to allow me to have 3 grills and he sold the rest. So please be very aware of employing Brits over here as well. Many are just fly by the night odd job men, most were not even builders in the UK but moved over here and suddenly they are experts and doing renovations for other people.
In the end we got some lovely, more ornate security grills made and fitted for much less using a local Bulgarian welder.
It was a very long slog and cost an awful lot of money but in the end we have a fabulous home here in Bulgaria. However, for anyone considering building from new here, I would say do not bother. I know it may seem an attractive idea, to buy a cheap house or plot for a few thousand Euros and renovate or re-build but now-a-days you can get completely renovated properties for far less than it will cost you to do the work yourself and without all the hassle and anxiety that goes with it.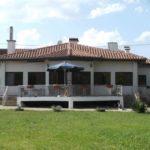 We have loads of little projects we want to do including a conservatory, maybe make the BBQ area enclosed and we come up with new ideas constantly.
A couple of years ago we built a pergola and now have a lovely outside covered sitting area. This year we have taken down the outside toilet to get more parking space and also the large mulberry tree. We are in the process of having plans done to re-roof and enlarge the car-port and re-vamp the barns/dog kennels as these are now old and tired and leak when it rains heavily.