Character House
Character 4 Bed House Next Door to our Main Home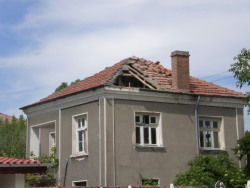 Initially I spotted the house next door but one to me for sale on another agent's site so made enquiries with the neighbour about who owned it and also who owned next door and whether that was for sale. I bought the house in early 2008.
Initially the owners wanted 15,000 Euros for this, but having viewed inside and seen that it needed a lot of renovation, had many cracks in the ceiling and would require some outside rendering I went in a little below the asking price, but probably still paid far too much for it. However it meant that we had no direct neighbours to the side of us. There was basically a large central hall downstairs with kitchen sink and then one living room off this to the left and another cellar type room to the right. External stairs lead to another large hall area and three bedrooms. Outside was a small mud brick building with an open fire place which would make an ideal BBQ area. The plot is around 1,000 sqm.
I got an idea of costs to make this into 4 bedroom house with 2 bathrooms. I decided to use individual tradesmen with someone employed as project manager. The builders had a quick look at roof and many of smaller timbers were rotten and so a larger  (more expensive) job than initially envisaged. But work started.
By July 2008 all the new windows were in, all electrics and plumbing done, new septic tank installed and all plaster boarded inside and painted. Some damp was discovered on lower floor so measures taken to concrete area outside to prevent rain seeping into ground and new water proof plasterboard put on.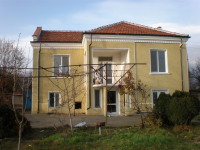 By December 2008 the new railings were on the stairs and the upper balcony, the was house painted yellow and white, the wooden floors stripped and tiling started and the inside painted. The BBQ area was more or less finished and is a great feature.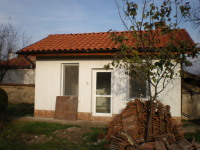 But by June 2009 I was still waiting for the tradesmen to come back and finish bits and pieces. They had been insisting they had finished for months and demanding last of money but there were many small jobs that had not been finished off properly. It took several days to clean all the paint, plaster and cement off the windows and frames. Bulgarian builders appear to have never heard of masking tape and simply either splatter paint everywhere or do not bother to paint up to skirtings or edgings.
I sanded down and painted all doors in the house, the kitchen was fitted and a wood burner installed in the lounge. In winter 2011 this was rented out to British but they did nothing but complain and so we decided to just use it for friends and family to stay in. Following the sale of another property we owned in summer 2012, we moved the furniture from that villa to this house and furnished downstairs and one room upstairs. And following the sale of another house in 2013, we furnished the other 2 bedrooms.
In the summer of 2013 the well was re-vamped and a fire-pit built in the garden. Then during the very wet weather in 2014 the mud brick wall at the rear of the garden collapsed. This has now been rebuilt and a rockery is being prepared at the far end of the garden. Curtains have been put in all the rooms and it is now a lovely, large 4 bedroom house.
And the garden:
This year we got a load of gravel from around one of the small lakes near us, where they used to dredge for sand and have made rockery at the back.
The house is currently used by our dog sitters who come to help us with taking care of the dogs and help with the dog rescue.