Sep 28 2016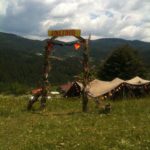 Its been a very hectic summer, with lots of travelling and exploring various regions of Bulgaria. Now as the summer draws to a close and autumn approaches, I finally have a bit of time to sit down and catch up on blog posts and write about the places we have been to and the sights we have visited.
One of our first trips of the summer was not to explore a new region or visit a historical site, but to go to a small but very unique music festival in the heart of the Rhodope mountains. Meadows in the Mountains is run by the family of a close friend and we have been wanting to go for a couple of years and this summer we finally made it.
The festival is held in a small traditional mountain village, 850 metres above sea level and not far from the Bulgarian border with Greece. It is an eclectic mix of live music, DJ's, random stalls and stages, yoga and meditation sessions, people wandering around in fancy dress (or maybe this is just how they always dress???) and all set on the top of a mountain with amazing 360 degree views.
The actual festival lasts for three days (Friday, Saturday and Sunday) although many of the visitors show up days before to help with the set up and just to enjoy the general ambiance as over 1000 people take over the tiny mountain village. Visitors to the festival can choose to either camp up the mountain just outside the festival site, or in various fields around the village, or they can rent rooms in village houses. We opted to park our camper in the small car park and called that home for a few nights, much to the amusement of friendly locals who would stop for a chat in the morning, while we were doing our teeth in water collected from the village spring.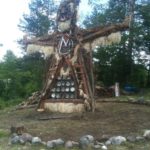 Any reviews you will read about the festival (this was its 6th year) will talk about the camaraderie between revellers and the homely atmosphere and its all true. Everyone was super friendly, if a little mad 🙂 In the centre of the village there is the 'Pink House' run by an Italian/British couple, who have made the village their home. Every morning, festival goers would gather here for breakfast (Mimi's homemade granola was quite a hit) before climbing (and it is a bit of a trek) up the hill to the main entrance or catching a lift in one of the various mini-buses that took people half way up. The festival tended to kick off mid-afternoon each day with live music on the main stage and then went through the night, with DJ's taking over and keeping those with far more stamina than me, going through out the night, ready to welcome the dawn from the 'Sun Rise' stage. I am told this is a one of the not-to-be-missed experiences of the festival. However, as I am pretty useless with late nights, I was to be found tucked up in my sleeping bag in the camper by around midnight each night. My 'Sun-Rise' experience tended to be waking up in the morning to a Drum & Base background, coming from somewhere up the mountain, that was invariably shrouded in mist, with the stage apparently just above the clouds.
But it was not all partying and play, we were actually there to 'work' and had a BBQ stall selling burgers and sausages to raise funds for TheNeuterNetwork. We set up stall a couple days before and spent the Thursday exploring all around Pamporovo and nearby villages. On Friday with gates meant to open at around 2pm we had the BBQ's lit and were ready for the first punters. After a bit of a delay and a thunderstorm, we started selling our gourmet chilli and cheese burgers. All was going well until around 9.30pm when it started to get dark and we realised we had forgotten to bring any lights and so by 10pm we called it a night and decided to enjoy a wander around the festival instead. Saturday morning we were up bright and early to feed the revellers sausage sandwiches for breakfast as they left the mountain, having partied hard all night and by 11pm that night, having been on our feet nearly all day we opted to go down the mountain early and have a few beers at the Pink House and call it a day. By Sunday we were down to our last few burgers and sausages and so once our last sausage was sold, we packed up and enjoyed the remaining hours of the festival.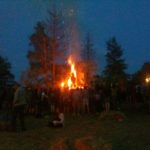 Sunday afternoon saw one of the highlights of the weekend. One loved up couple had decided to get married and so arrangements were made for a ceremony to be held in front of the main stage. There were traditional Bulgarian folk singers, a lot of chanting and the happy couple shared their special day with over a thousand hippies at the top of a mountain in rural Bulgaria. This was followed by a procession of 'priestesses' in the most amazing and bizarre outfits and the burning of a large effigy as the darkness fell.
There are various reviews and write-ups about the festival online and one written for Elleuk after 2015's event, described it as "think of the book The Beach and you're on the right lines (only up a mountain, and with less of the shootings and all that)". I would add that unfortunately there was also no Leo [think of the film version] there either, but I think this is a great way to describe a truly memorable experience and one we hope to enjoy again in future years.