Feb 28 2017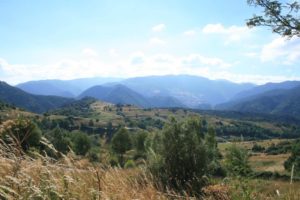 Instead of heading back home via the same route, we decided to turn towards Dospat and go and explore Dospat Lake and Batak Lake. We were up fairly early and left Trigrad around 9am, hoping to find somewhere for a quick breakfast stop but we did not find anything and so carried on, back the way we had come but instead of continuing north to Devin, we headed west across the mountains to the town of Dospat. There were a lot of road works going on in the town, but we managed to find a small cafe serving freshly baked sweet buns and get a coffee. The town as an impressive Mosque and its inhabitants are mainly Pomak, or Bulgarian Muslims, descendants of the native Bulgarians that were forced to convert to Islam during the Ottoman rule.
The town lies at the far southern end of the lake that takes the same name. The reservoir is the second largest in Bulgaria and also the highest. We continued along the road (E37) into the Pazardzik region and came across Shiroka Polyana reservoir. There was a small run down resort on the edge of the lake, with old camping cabins, a couple of old style hotels and cafes and various camping sites. At 1500 metres above sea level and set amongst pine forests it is an intriguing place.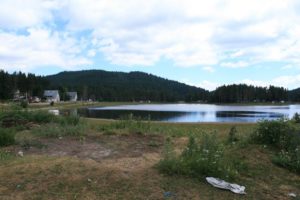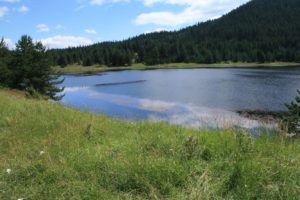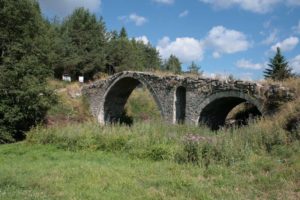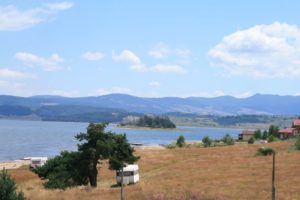 Next you come to Golyam Beglik reservoir, which the road crosses at the very tip of the lake and then Beglika lake and then you start to lose altitude and come down to the town of Batak and Batak lake. Batak is the 3rd largest lake in Bulgaria and is popular for water sports and fishing. The resort of Tsigov Chark was built on its shores and there were attempts to develop this into a small ski area. A number of new developments were built on the back of this supposed new tourist site, but it barely came to fruition. As keen skiers and as I had heard of the development of this area 10 years ago when I first came to Bulgaria, I was keen to see the ski area.
After driving round, up to the higher part (a very small hill), around new and old developments we eventually gave up. There was nothing resembling a ski area and no signs. So we decided to head down to one of the few restaurants on the edge of the lake and get some late lunch. We drove along the road along the lake to see what other options there were and suddenly came across a large, half built and abandoned development with a ski lift. We stopped to take a look and were soon being chased away by some security guard. Clearly they did not like the idea of photos being taken and people seeing the failure of this project. I know a number of people that invested in plots of land here after being told it was going to be developed into a new ski area. Unfortunately this seems to be as far as the planned resort got……..