Sep 28 2016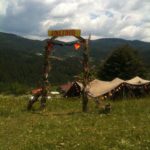 Its been a very hectic summer, with lots of travelling and exploring various regions of Bulgaria. Now as the summer draws to a close and autumn approaches, I finally have a bit of time to sit down and catch up on blog posts and write about the places we have been to and the sights we have visited.
One of our first trips of the summer was not to explore a new region or visit a historical site, but to go to a small but very unique music festival in the heart of the Rhodope mountains. Meadows in the Mountains is run by the family of a close friend and we have been wanting to go for a couple of years and this summer we finally made it.
The festival is held in a small traditional mountain village, 850 metres above sea level and not far from the Bulgarian border with Greece. It is an eclectic mix of live music, DJ's, random stalls and stages, yoga and meditation sessions, people wandering around in fancy dress (or maybe this is just how they always dress???) and all set on the top of a mountain with amazing 360 degree views.