Oct 18 2016
We have driven down the whole south coast a couple of times before and visited the various resorts and beaches from Sunny Beach right down to the Turkish border. There is a great beach just north of Pomorie where the mud flats are and you can go and immerse yourself in the dark, smelly mud pits, roll in the sand, bake a while in the sun and then wash off in the sea. Burgas itself as some great stretches of beaches and just south of Burgas is a lovely little place called Kraymorie, with great traditional Bulgarian restaurants and a nice beach with really shallow water.
The further south you get, the less foreign tourists you tend to get and the less developed it becomes. Chernomorets is a fabulous small seaside resort. The beach has been extended and widened, a new small mariner has been built and while there is a pedestrian street with the usual tacky stalls, on the whole it remains a small town where people live all year round and only really gets busy in July and August. And then of course there is Sozopol, with the UNESCO protected old town but not many tourists venture much further than this and it is certainly off the radar of the large tourist companies bringing in plane loads of Brits each week during the summer to Sunny Beach and around.
After Sozopol, the road meanders inland a little and through the woods until it meets the Ropotamo river and follows this south before you reach Primorsko, a nice seaside town, that has managed to escape the chaotic over-building around so many of the other resorts further north. A little further south you come to Kiten. We stopped here for a quick drive around and lunch and wish we hadn't. We just did not like the place (only our personal opinion) and the meal was mediocre at best and expensive.
Next place you come to is Lozonets. A fairly lively small resort and with some lovely beaches on either side of it. It is maybe a little run down in places, with a bit of random development on the edge but definitely worth a visit.
Next stop was Tsarevo, more a typical Bulgarian town where people live than a sea-side resort. We were just about to head back to the main road and carry on further south, when we took a random turn to the left and ended up on a dirt track leading to an absolutely huge, unfinished development. The only sign of life was an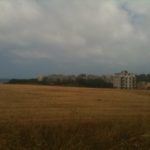 old guy sat on a bench while his two cows grazed nearby. We decided to explore a little further and take the small old coastal road that ran nearly parallel with the new road, heading north. A few minutes up the road we stumbled upon Arapya, a rather strange mixture of campsite, wild camping, guest houses and bungalows and the odd newish development.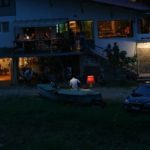 With the afternoon drawing to a close we turned round, went back through Tsarevo and back onto the coastal road heading south and to where we were staying a couple of nights in Varvara. We found a small little guest house with a room for 25 levs a night, although lacking air conditioning and being just over the road from the liveliest bar in the town, we got little in the way of sleep. But if you can't beat them, join them and so we had an enjoyable evening watching an American guy sing and play guitar, while perched on the edge of an old boat in the dark, outside a small restaurant. The bar is apparently quite well known for live music and Varvara attracts a bohemiam mix of people from Sofia and the other large cities in Bulgaria.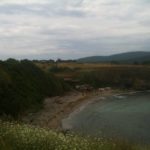 Varvara itself only has a very small beach, which at the end of June when we visited was still not open for business as such – the bar was only just being renovated and cleaned to open, the beach was dirty and after 10 minutes we were sick of fighting off the flies so left.
The next day we went off to find another beach we had been told about – Silistar beach, the last stretch of golden sand before you hit the border with Turkey. You have to pay to park in the car park (I think it was around 4 levs for the day) but it was fairly quiet, there was a snack bar serving the usual – whitebait (tsatsa), chips etc and a nice stretch of sand. We only ended up spending an hour or so here, having a spot of lunch, a quick walk along the beach and then we headed back to Sinomorets for a quick explore and walk on the beach. Its a lovely town, with some lovely looking restaurants, not many tourists and a nice stretch of beach. We would love to go and spend a few days there sometime in the future. It is like a different world, compared to Sunny Beach and similar resorts.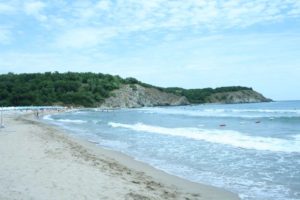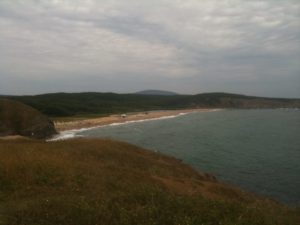 On the way back to Varvara, where we were spending a second sleepless night, we stopped at the beach just north of Ahtepol, where the campsite is. Its a fabulous little beach, with a nice bar.